SIP = Session Initiation Protocol 15年前已開始開發的 VoIP 語音通話為主之協定, 但這10年間由 H.323 協定主導了 VoIP 發展 (可能是錯誤地主導), H.323 是一種多媒體廣泛協定, 其企圖想包含所有通訊, 圖像, 視像協定, 結果造成了大量不實用封包浪費. 這10年間, H.323的 "假大空" 浪費了全世界大量網絡及硬體資源 . 近年由 SIP 重振雄風, 燃點新一代 VoIP, IPPBX 語音通話之希望 ! VoSIP

SIP = 專; 精; 簡; 快; 聰明之實用語音通話協定, 請按此多看最新 VoSIP / IP-PBX 資料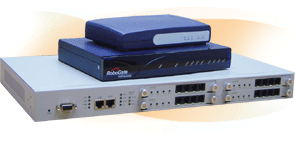 more about VoIP Gateway : 4 ports with LAN switch or bandwidth control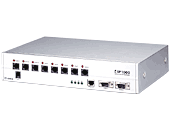 IP1000 is a high performance industry standard compliant gateway optimized for VoIP and IP-PBX applications. It is the latest addition to VoIP Internet Telephony products. Inheriting TOPs proud tradition of technlogical innovation, IP1000 is desgined to possess many sensible features.
The modularized
FXO/FXS
dual telephone interface provides the system with ultra flexible PSTN connection.
IP1000 can conveniently connect to either the
trunk
or the extension of a PBX, or a mix of both. Direct connections from C.O. lines or analog telephone sets can also be done by IP1000.
In addition, the state-of-the-art design provides users of IP1000 two usage modes - VPN mode and ITSP mode.
In VPN mode
, IP1000 constructs a point-to-point communication structure in a Private Network or a Virtual Private Network and functions perfectly in any TCP/IP environment. Also, with a specially designed user-definable dial plan function, IP1000 delivers an optimized user-friendly interface while satisfying the unique dialing habits of each IP1000 user. This enables decentralized enterprises to make phone calls to branches easily and efficiently. With an IP1000 installed in the office, even oversea calls will sound and cost similar to those between internal extensions.
In ITSP mode,
IP1000 works as a multi-ports Internet-phone or box, allowing it to reach or be reached directly by all VoIP devices, dial-up and Ethernet-based. Supported by global VoIP network, IP1000 also offers the benefits provided by a gatekeeper and billing system. Moreover, connecting to the legacy PSTN with just a single IP1000 is also supported. IP1000 is equipped with a RJ-45 female connector interface to the IEEE 802.3 10BaseT Ethernet. With up to 8 analog ports and supports both
FXO
and
FXS
telephone interface, IP1000 is more than a reliable and affordable long distance saving phone system, it is the ideal mate for decentralized or small to medium size enterprises.
| | |
| --- | --- |
| | |
IP1000 is built to incorporate many user-friendly features. The Telnet setup guide provides a clear tour to configure IP1000. By employing the user-definable dial plan option, making calls through IP1000 is easy and efficient.

All-in-One Design

IP1000 possesses its own processor and network interface; it works intelligently. No computer, no software and no long-distance carrier required with IP1000.

Clear Voice Quality

IP1000 is designed with the latest and state-of-the-art compression technology, fully compliant with industry standards. Incorporated with advanced echo cancellation algorithm and ultra-low latency jitter control, IP1000 delivers the best voice quality to users.
VPN model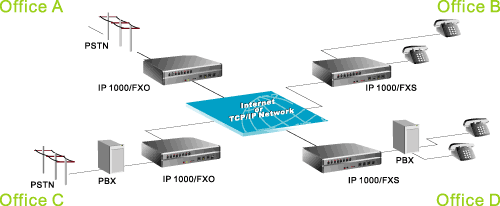 As a multi-port VoIP gateway, IP1000 functions as a bridge between the caller and receiver. This enables users of IP1000 to connect under the following modes: IP1000-to-IP1000, IP1000-to-Phone, Phone-to-IP1000, Phone-to-Phone, IP1000-to-VoIP Device and VoIP Device-to-IP1000.
ITSP model

Each VoIP products owns a unique ID number. Simply dial the ID of receiving device and one will be connected to other on-line VoIP product users automatically. This enables IP1000 to perform under these modes: IP1000-to-Phone, Phone-to-IP1000, IP1000-to-VoIP Device, VoIP Device-to-IP1000.
Dimensions
315mm X 198mm X 60mm
Weight
Approximately 2300g
Power Input
DC 5V,12V
Temperature
0 - 50C ( 32~ 122F )
Humidity
10% to 90% non-condensing
Internal RAM
2MB / 4MB
Flash Memory
4Mbits standard, 8Mbits optional
Voice Compression
G.723.1 standard, G.711, G729a Optional
Telephone Interface
FXO / FXS, RJ11
Network Interface
Ethernet 10BaseT, RJ45
Network Protocol
TCP/IP, DHCP, Telnet
FYI : Why you may consider TOPS as your VoIP solutions provider ?
Because we are familiar with Internet Computing, TCP/IP networking, PABX,
and Web technology, Not only VoIP ! .

We can integrate all related technology to benefit your company.

We have strong ability to solve most of your Internet, VoIP, Networking problem !

click to see more about VoIP Gateway : 4 ports with LAN switch or bandwidth control